In today's corporate and governmental landscape, transparency is pivotal in maintaining trust and integrity. With its innovative Gifts Register module, Open Declare's 'Resolve' software is at the forefront of promoting transparency within organisations.
This blog post explores the significance of Open Declare's 'Resolve' software as well as how its Gifts Register capabilities streamline tracking and disclosing gifts, fostering a culture of integrity.
Streamlining the Gifts Register Process
Open Declare's 'Resolve' software provides a modern and efficient solution for maintaining a comprehensive register of gifts. With its user-friendly interface as well as robust functionalities, the Gifts Register module simplifies the tracking and disclosure process.
'Resolve' is especially beneficial to HR Managers, Accountants, Finance Managers, and politicians who give and receive gifts. You can benefit from this innovative software's powerful capabilities and revolutionise your gift management process.
Promoting Transparency and Compliance
The Gifts Register module within Open Declare's 'Resolve' software promotes transparency and compliance within organisations. By implementing this module, businesses and governments can easily record as well as monitor gifts received or given.
This streamlined process also ensures that organisations adhere to regulatory requirements and maintain accurate and up-to-date gift registers. The module is powerful for demonstrating ethical conduct and accountability.
Enhancing Efficiency and Accuracy
Gone are the days of manual, error-prone gift-tracking methods. Open Declare's 'Resolve' software enhances efficiency and accuracy in gift management. The Gifts Register module also allows users to effortlessly enter and search gift information, eliminating the need for cumbersome spreadsheets or outdated systems. By streamlining the process, organisations can allocate their resources effectively, ensuring that gift management tasks are completed seamlessly.
Conclusion
Open Declare's 'Resolve' software, with its Gifts Register capabilities, empowers organisations to embrace transparency, compliance, as well as integrity. By simplifying the gift tracking and disclosure process, 'Resolve' streamlines operations and enables businesses and governments to meet regulatory requirements. Take the first step towards a culture of transparency by requesting a demo of Open Declare's 'Resolve' software today.
Request a Demo
Ready to discover Open Declare's 'Resolve' capabilities? Request a demo today and experience firsthand how the 'Resolve' software revolutionises how you track and disclose gifts. Our team will also guide you through the software's features and demonstrate how it can streamline your gift management processes, fostering a culture of transparency and integrity.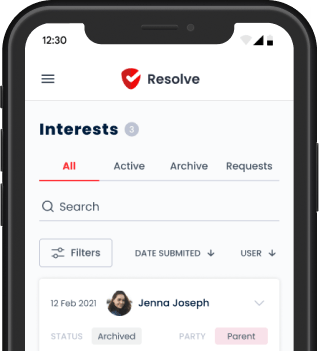 Keep your organization and employees 100% compliant. Save 30% on your first 6 months on any monthly plan.