Gifting and hospitality can benefit organisations in several ways. They can build and strengthen relationships, enhance brand awareness and reputation, and generate goodwill, among other benefits. However, you must be cautious with gifting and hospitality. This is where the importance of gifts and hospitality compliance comes in.
In fact, there is a fine line between a thoughtful compliant gifting gesture and unethical behavior, such as bribery or corruption. This guide highlights the issues and complexities surrounding gifts and hospitality compliance and recommends a practical solution to help you ensure it.
Issues and Complexities in Gifts and Hospitality Compliance
Some of the issues surrounding gifts and hospitality compliance include the following:
Outdated Reporting Methods
Many organisations use outdated manual methods to log gift and hospitality activities, such as papers or spreadsheets. While this method can work for small organisations, it is too complex for larger organisations and often results in non-compliance.
Legal Risks
Bribes and corruption don't have to be in the form of an envelope or briefcase stuffed with cash. Gifts and hospitality have the risk of being used to influence decisions or gain a business advantage. In fact, there is a lot of gray area between them, making it hard to ensure compliance.
Varying Laws and Customs
Companies with international operations must deal with cross-cultural differences and different rules across jurisdictions when gifting to ensure compliance. They can be too complex to manage and comply with.
Ethical Issues
Giving and receiving gifts and hospitality can lead to ethical issues like perceptions and accusations of deceit, unfairness, partiality, or unlawful conduct. It can also put your reputation at risk.
How Do You Ensure Gifts and Hospitality Compliance?
The only way to ensure gift and hospitality compliance amidst these issues and complexities is to use a digital gift and benefits register. Digital solutions can simplify and speed-up data entry, eliminate errors, automate some reporting tasks, and keep track of and comply with national laws. Resolve is one of the best digital solutions.
Resolve is a simple Governance, Risk & Compliance reporting software purpose-built for declaring gifts, interests, as well as travel and vehicle expenses. It can arm you and your team with a gifts and hospitality register, and sophisticated tools to:
Record gifts to avoid the discussed risks and issues

Register personal interests to avoid perceived conflicts of interests

Log sponsored travel to ensure full disclosure

Register vehicle expenses to track mileage and running costs.
Resolve seamlessly integrates into your existing gifts and hospitality compliance strategies, policies, or framework, so you can ensure compliance without changing your existing processes.
Streamline Compliance with Resolve
Resolve can help you navigate the complexities of gifts, expenses, and hospitality compliance while reaping benefits such as stronger business relationships and goodwill. 
Request a demo of Resolve today to help your organisation streamline compliance.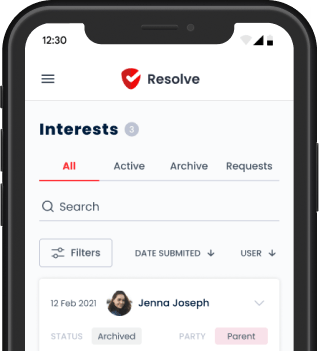 Keep your organization and employees 100% compliant. Save 30% on your first 6 months on any monthly plan.