Simplifying travel disclosure promotes transparency, saves time and costs, helps with regulatory compliance requirements, and prevents conflict of interest. In this guide, we show you the best and most cost-efficient way to manage your institution's travel expenses reporting—using Open Declare's travel register.
Benefits of a Simplified Travel Disclosure
Tracking and reporting travel activities can be daunting, especially for organisations that rely on manual processes. For example, spreadsheets are time-consuming, tedious, prone to human error, and lack compliance checks.
Also, generic software can be challenging. They can be bloated, have poor integration options, be costly, and have poor customer support. In fact, the solution is to switch to a state-of-the-art travel disclosure system. Here's why!
Enhanced transparency:

Simplifying travel disclosure for your institution is crucial for creating a transparent workplace environment. In fact,

workplace transparency

helps promotes trust and boosts staff morale. Concise reporting means all stakeholders can access accurate and comprehensive

travel-related expense information

.

Saves time and costs:

Tracking travel-related expenses through manual processes like spreadsheets can be costly. According to a

Global Business Travel Association study

, manually processing a travel expense report costs approximately $58 and 20 minutes to complete one. This can build up if you have many departments in your organisation.

Compliance:

Compliance with relevant obligations is critical, especially for governmental institutions. A centralised travel register can help you remain compliant if you work in a regulated sector.
Introducing Resolve–Open Declare's Register of Travel
While there are many different types of travel expense software, none comes close to Resolve. It's the best for people looking for a corporate travel register. With Resolve's register of travel, you can disclose travel details like flights, hotels, transport, event, food, and drinks. The best part? You can automatically tally total expenses. And, if you receive or give gifts during the travel, or buy a new house, you can also register them for transparency. 
In fact, Resolve is built for HR teams, is easy to use, and has a responsive design for desktop and mobile. It can help you streamline your institution's disclosure process and promote transparency and accountability.
Start the Journey to a Transparent Travel Disclosure with Resolve
Revolve has your back, and we're glad to help you with your travel expenses management. Request a demo if you'd love to switch to a transparent and simplified travel expense tracking and reporting system for your organisation.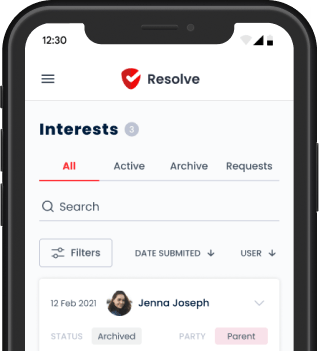 Keep your organization and employees 100% compliant. Save 30% on your first 6 months on any monthly plan.