Open Declare is excited to announce that Resolve is now open for Early Access.
Resolve is a one of a kind hybrid GRC and Expense Management Software for organizations and government departments to declare and manage all their gifts and expenses from one simple SaaS application.
IT, HR, and finance teams across the board told us they needed a better way to declare gifts and record expenses while mitigating risk and ensuring compliance. Spreadsheets and paper-based data entry just wasn't cutting it anymore. And the thought of investing in expensive, hard to configure enterprise software that wasn't fit-for-purpose was also a daunting concept for most teams.
That is, until Resolve came along, a purpose-built cloud-based solution that could instantly speed up data entry, centrally manage gift & expense records, while improving and ensuring legal compliance.
With Resolve, you can:
Register gifts, interests, travels and vehicle expenses
Quickly and easily record a limitless number of transactions, across any device.
Hit the ground running with purpose-built GRC software
Take the leap with a tailored reporting solution without having to change existing processes.
Avoid costly compliance & legal risks
Remove the reputational and legal risks associated with not recording gift and expense transactions.
Protect and secure important financial data
Maintain the appropriate balance of collaboration and control with enterprise-grade security.
Best of all, you can get your free early access to Resolve today. Organizations are already making the switch to Resolve to avoid legal risks and reputation damage. When will you?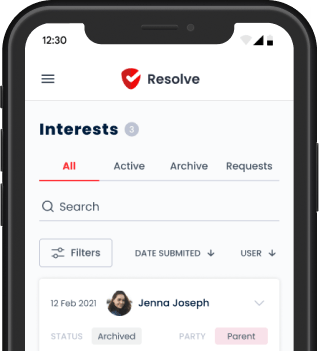 Keep your organization and employees 100% compliant. Save 30% on your first 6 months on any monthly plan.