You cannot underestimate the importance of travel expense management in your company or business. Whether you're the director of a large corporation, a listed company, a councillor, a member of parliament, or hold any position of power, a travel and expense policy can help ensure compliance and transparency.
Individuals need to be able to submit the right expense reports and be reimbursed correctly for travel expenses like travel fares and transport, meals, lodging, and business expenses.
Please read on to learn more about travel and expense policies.
Advantages of Travel and Expense Policies
A travel and expense policy makes it possible to log in accurately and disclose all travel expenses. That way, you can:
Boost your bottom line

by saving you several costs, such as the expense processing and travel costs.

Avert employee and corporate fraud

since there are standard procedures and policies for submitting allowable travel expense reports.

Streamline the booking, thus, the reimbursement process,

whether pre or post-payment.

Improve accountability during audits

by ensuring that you gather detailed expense data quickly and accurately.

Ensure compliance with IRS requirements and regulations.
Improve efficiency

by keeping employees and other stakeholders like supervisors and

accounts payable staff

informed about the travel and expense policy at all times; this mitigates unnecessary communication and time wastage.
Travel and Expense Automation is the Way to Go
You need the right solutions for tracking and reporting travel expense data to enjoy the above benefits. Unfortunately, this isn't the case with most businesses that rely on paper-based, excel-based, or government-issued solutions for tracking travel expense data.
Such solutions are time-consuming, error-prone, and can cause compliance issues. For instance, it is easy for a paper-based system to get lost or damaged. Meanwhile, an excel-based travel expense tracking system is prone to human error. Again, government-issued solutions might be inefficient and too generic to fully suit your or your company's needs.
But there's no need to worry. Resolve is here to sort all these issues out for you.
Resolve is Your Ultimate Travel Expense Data Tracking Software
You deserve a travel expense tracking and reporting platform that will efficiently work for you, save you time and unnecessary costs, prevent employee fraud, meet all your needs, and boost your bottom line. That's why we built Resolve, a software to ensure you enjoy all these perks.
Why Resolve?
Here are several reasons to prefer Resolve over government-issued, paper-based, excel-based, or other travel expense tracking solutions.
Resolve provides a better, more efficient solution for tracking, recording, and reporting travel expenses.

It allows you to easily record, track, and report on all travel expenses in real-time, ensuring compliance with laws and regulations.

With Resolve, you can report on other expenses such as interest, fees, gifts, combined travel expenses, as well as vehicle expenses.

Resolve also has a user-friendly interface, which enables employees to easily submit their expense reports and for you, supervisors, or accounts payable staff to approve them for reimbursement. That way, you save time and minimize errors.

It provides detailed travel expense reporting and tracking, allowing you visibility into the company's travel expenses. With such data, you can make data-driven decisions on how to streamline your travel and expense policy.
The Bottom Line
An effective travel and expense policy is essential in ensuring compliance and transparency. It enables companies to minimize costs, avert employee fraud, streamline the reimbursement process, as well as boost bottom lines.
Resolve offers a better, more efficient solution for recording and tracking travel expenses, ensuring compliance, and providing detailed reporting and analytics. If you're looking for a better way to manage your travel expenses, please don't hesitate to contact us or request a demo of Resolve today.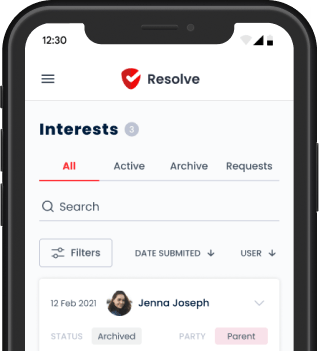 Keep your organization and employees 100% compliant. Save 30% on your first 6 months on any monthly plan.